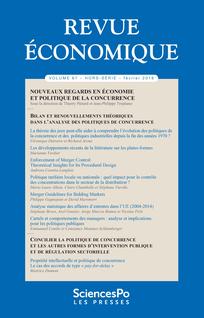 Sébastien Broos, Axel Gautier, Jorge Marcos Ramos and Nicolas Petit, all members of the LCII, have published a new paper in La Revue Economique: Analyse statistique des affaires d'ententes dans l'UE (2004-2014) (click on the title to access the article).
Abstract: À partir d'une base de données originale rassemblant toutes les ententes sanctionnées par la Commission européenne depuis mai 2004, nous présentons des résultats statistiques relatifs au « design » des ententes et aux aspects procéduraux au niveau de la Commission et du Tribunal de l'Union européenne. L'étude souligne l'importance de la clémence et de la récidive, la première étant sollicitée par plus de la moitié des entreprises et donnant lieu à une réduction d'amende de 37 % en moyenne ; la seconde étant fréquente avec 27 % des condamnations qui concernent des récidivistes sans que la majoration de l'amende soit systématique. L'étude montre aussi l'importance de l'appel devant le Tribunal et son faible taux de succès avec un taux de maintien des amendes de 63 %. Enfin, l'étude met en avant certains facteurs qui influencent le succès de l'appel, comme l'importance de l'affaire.
Abstract in English: Our paper brings together an original dataset comprising all cartels fined by the European Commission since May 2004. We present a set of statistical results relating to cartel design and cartel enforcement both at the Commission and General Court's level. The research highlights the importance of leniency applications and recidivist considerations. We show that more than half of the undertakings are leniency applicants. These benefit from a 37% fine reduction on average. Further, recidivism is quite frequent as it concerns 27% of cases. Nevertheless, the fine increase is not systematic. Our research puts in perspective the importance of "appeals" before the General Court where 63% of the fines are upheld. Lastly, our research focuses on the factors influencing the outcome of an appeal, notably the importance of the case.