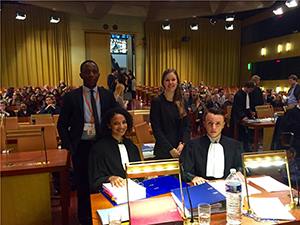 The LCII is proud to announce that students from the LLM in EU Competition & IP Law won two prizes at the EU Law Moot Court:
Advocate General: 2nd prize;
Best Team: 3rd prize.
The case concerned a complex State aid and procurement case in the waste collecting sector.
The team took part to the semi-final in Bremen, Germany and qualified for the final stage, which took place at the EU Court of Justice. in Luxemburg.
The European Law Moot Court is amongst the most competitive moot Court organized in the world. This outstanding result confirms that our LLM. in EU Competition & IP Law stands amongst the best educations programs in EU Law.
Led by PhD applicant Jorge MARCOS RAMOS, the LCII student team was composed of Buki OWA, Raymond NTWALI, Gonne KNAEPEN and Simon TROCH.
Congratulations to them all!